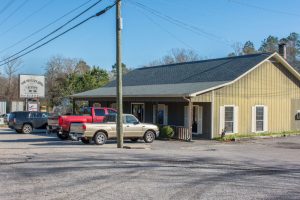 Michael Chamblis and Tim Foster grew up together in the Coaling Community and were friends all through school. After graduation from Brookwood High School in 1981, they both enlisted in the Navy. At one point their ships were only a few piers from each other and the two friends began to share their mutual dream of opening a restaurant in the Tuscaloosa area. They decided to pursue their dreams together.
After both friends spent an enlistment in the Navy, they went home to finish college, Michael at Appalachian State and Tim at Troy State. They finally started a business together in 1989 with a country convenience store and deli called The Coaling Crossing. In 1991, they purchased the Old Hamm's Pottery property and started selling take out BBQ. After a fire destroyed the kitchen in early 1992, they decided to build a full-service restaurant on the same location. On September 1, 1992, The Pottery Grill, a full-service restaurant specializing in pork barbecue opened up. Their dreams were finally becoming a reality. In July 2008, the partners expanded their dream and opened another Pottery Grill in Northport. After 10 successful years of operation at this location, the opportunity came to sell the property. Now the partners are back together at the original location in Coaling.
Michael and Tim realize that good things take a while and a lot of hard work. At The Pottery Grill, the barbecue is slow cooked over a hickory fire on open pit, "the way food is supposed to be cooked". From the beginning when they were drawing their plans for a restaurant on a paper plate, the two friends' goal was to provide a great product at a reasonable price. At The Pottery Grill they still live by their original goal.